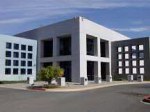 Whilst our Head Office is based in London, we also have a state of the art purpose built Data Centre in Doncaster with excellent access to multiple national telecommunication networks.
The Doncaster facility is home to hundreds of servers, including our own systems, customer dedicated servers and co-located machines.
We have high speed Internet connectivity from multiple leading providers. We have single hop access to major UK peering points including LINX, MaNAP and LoNAP. This investment in quality bandwidth affords us excellent network performance with a high level of resilience.
Our network is fully switched, utilising high specification components including Cisco routers and 3com switches. All core equipment is fully redundant ensuring continuous service in the event of equipment failure.
Multiple uninterruptible power supplies (UPS) protect our network from power outages and condition the power output to sensitive equipment.
In the event of a failure of the utility power, the UPS will immediately take the load of all servers and network hardware, supplying uninterrupted electricity from large batteries.
In the event of a utility power outage lasting more than a few minutes, a diesel generator starts automaticaly, providing power to our entire data centre systems and offices.
We store sufficient fuel on site to supply power for 72 hours whilst additional fuel can be quickly delivered to supply power for an indefinite period of time.
In the unlikely event of a fire breaking out, it will be detected promptly and an inert gas released into the atmosphere extinguishing it quickly and safely whilst minimising damage and disruption to equipment.

Our data centre is equipped with powerful air conditioning units and convection heaters. Controlled electronically, they maintain a consistent, controlled environment offering optimum working conditions for server appliances.
The perimeter of our premises are physically secured by window bars and roller shutters. Walls and ceilings of the server rooms are steel clad with internal doors being of industrial grade.

A sophisticated alarm system provides protection from intruders around the clock. Featuring motion sensitive detectors, internal microphones and infrared beams, the system is connected to the South Yorkshire Police Force using the BT RedCare service.
The business park on which our facility resides is patrolled by security personnel.